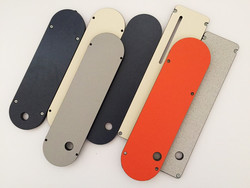 We are proud to offer LEECRAFT Zero-Clearance table saw inserts which are definitely SUPERIOR to any other brand! We think you'll agree that Leecraft's attention to detail and careful precision manufacturing are unmatched.
LEECRAFT Phenolic Table Saw Inserts reduce splintering and chip-out on the bottom side of regular or dado table saw cuts. The opening in the insert is cut on the table saw to the exact width of the saw blade's kerf. The matching kerf prevents thin slices of wood from jamming in between the blade and the throat plate during a cut. It also reduces the amount of tear-out that can happen with a standard insert.
Use MicroJig MJ Splitter Kits for added table saw safety. Available in THICK or THIN kerf they are easily installed and simple to align. Not for use with Leecraft inserts that already have the riving knife slot cut in. Intended for inserts WITHOUT the riving knife slot.
View this video for step by step installation instructions.
BEFORE ORDERING: MEASURE YOUR SAW THROAT OPENING OR CURRENT INSERT. THEN CLICK ON YOUR MODEL TO FIND THE CORRECT INSERT FOR YOUR TABLE SAW.